Welcome to Refuge Temple Ecrins !
Located at 2410 m near la Bérarde in the Ecrins massif, the Refuge Temple Ecrins welcomes you from June to September .

The mountain hut "Temple Ecrins" will be closed to the public during summer 2017.
Renovation and refurbishing work will start on June 6th 2017.
Please contact me if you need further information at 04.76.79.08.28
Sorry for any inconvenience.
Reservation:
To make a reservation, please call +33 (0)4.76.79.08.28 (during the opening period) or +33 (0)6.86.01.52.49 (during the closing period).
You can also send me an email (refuge.temple.ecrins@orange.fr) but be sure to receive my confirmation.
You can also use the internet for reservation.
For your reservation, please clarify your name, the number of persons, your phone number and the date of your reservation.
Don't forget calling me if you cancel your reservation.
There are blankets and pillows in the refuge. You can come with a "sac à viande".
There is cold water, but there is no shower and no hot water.
Please arrive to the refuge before 6:30 pm.
You can consult the mountaineering guide book here.
Prices 2017:
Prices to stay one night in the refuge are (half board: Night + Dinner + Breakfast + tourist tax):
• Adults...................................................................44,30 €
• Adults member of CAF* or of other alpine associations....................35,05 €
• Groups...................................................................40,60 €
• Young members of CAF* 8 -24 years old....................................30,45 €
• Youth < 18 ans...........................................................39,80 €
• Kids < 8 ans.............................................................18,00 €
• Guides that are members of CAF* or of other alpine associations..........25,80 €
*CAF= Club Alpin Français (French Alpine Club)
Acces:
Departure : from la Bérarde (Isère department)
Time: 2h45
Elevation: 700 m
Map: carte IGN 3436ET Meije - Pelvoux
Geographic coordinates : 44.904226 N - 6.332568 E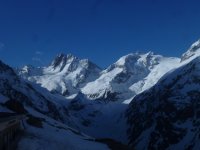 Please feel free to call us for more informations (+33. (0)4.76.79.08.28)